Alli Can't Write - A Storybook for Children with Handwriting Difficulties – Including those with: Dyslexia, Dysgraphia, Dyscalculia, Dyspraxia & ADHD
This delightfully fun book, with beautifully hand-drawn and creative illustrations for children ages 6 – 10 is about, an alligator, called Alli, who has problems writing and has to deal with the frustrations, shame and despair of not being able to write.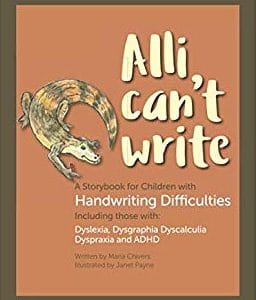 He lives in the Everglade Lakes, Florida where he goes to school with his friends; the opossums, racoons, Red-turtle and Amy-deer.
Alli has terrific ideas, but he can't write his thoughts down on paper because of his problems with handwriting.
People with dysgraphia have difficulties, with things like writing, getting their ideas down on paper, and in the correct order (processing) particularly hard.
Skunky bullies Alli, because he can write beautifully with his tail! The book discusses how peers can be cruel to anyone that is different; it will help to explain to young children about the nature of diversity and acceptance; throughout not just in the classroom but society.
With help from loveable supportive characters; Dr Dolphin, educational psychologist, his teacher Miss Panther and Miss Snake and Mummy and Daddy-Alligator; Alli learns to overcome his difficulties with his for writing.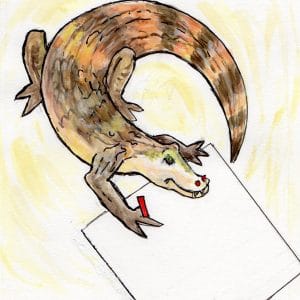 This book should be read by children, parents, educators, and anyone who has a loved one struggling with a learning disability. It's a story of resilience and hope.
The author explains what dysgraphia is and provides extensive information, help, practical strategies and useful tips to help students with difficulties meet their full potential.
Maria Chivers is an International Author on Dyslexia, Dysgraphia, Dyscalculia, Dyspraxia, ADHD and other Specific Learning Difficulties (SpLD's).
The majority of the animals in this book are on the
'Threatened or Endangered' species list.
Alli has his own great Facebook Page.
Just look at the great reviews!
Paperback Book £9.99
e-Book £7.50
Paperback Book $14.55
eBook £9.09
---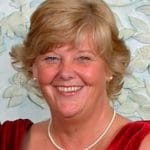 Maria Chivers is the founder of the Swindon Dyslexia Centre, which opened in 1991. Dyslexia A2Z is operated by Maria Chivers who is an international author on Dyslexia and other learning difficulties. This site is dedicated to raising awareness of Specific Learning Difficulties (SpLD's). Maria, working with a team of highly trained specialists: tutors, psychologists and other therapists; in specific learning difficulties, has featured on radio, and television including 'The Learning Curve'. Maria has taught in the IT department at Swindon College. She is an international author of several books, including:
Dyslexia and Alternative Therapies
Practical Strategies for Living with Dyslexia
Dyslexia and Other Learning Difficulties – The Essential Guide
Dyslexia and Other Learning Difficulties – A Parent's Guide (out of print)
Dyslexia The Inner Hurt (out of print)
Her book 'Practical Strategies for Living with Dyslexia' has been being translated into other languages.
When working Maria used to write regularly and gave lectures on dyslexia. Maria is passionate about dyslexia and as she puts it is 'Dedicated to Raising Awareness of Dyslexia, Dysgraphia, Dyscalculia, Dyspraxia, ADHD & other (SpLD's).
Maria Chivers is 60 years of age and lives in Swindon with her husband, who is a retired police officer. They have two children, both of whom are dyslexic. Maria first became involved in dyslexia when her oldest was having problems at infant school and was subsequently diagnosed as having dyslexia. Maria is dyslexic and dyspraxic.
Maria is retired on health grounds as her disability has worsened considerably during the last few years. Due to her health, she was forced to close the Swindon Dyslexia Centre in 2009. The Swindon Dyslexia Centre was then incorporated into our associate website; the Dyslexia A 2 Z, (which had been operating alongside the Centre for over ten years).
Maria's husband, Chris, also helps with the website whenever he can.