Dyscalculia – Page 2 (Cont.)
Dyscalculia is a Specific Learning Disability (SpLD) appearing as difficulties with mathematical skills.
On this section of the website you will find information and help on; Dyscalculia Treatment, Dyscalculia – Help, Advice & Support.
Treatment for Dyscalculia

As dyscalculia is not a disease, there is no 'treatment' for it. However, you can help a student with dyscalculia, by using Multi-Sensory Teaching Methods and developing skills through play and lots of encouragement.

Furthermore, we are lucky these days that there are so many software programmes to help us with literacy and numeracy skills. Touch Typing is extremely helpful for all students to help them get their thoughts down on paper.

Dyscalculia & Technology

Educational Games for Kids with Dyscalculia

Educational Games for Kids
with Dyslexia, Dysgraphia, Dyscalculia, Dyspraxia, ADHD & other Specific Learning Difficulties (SpLD's).

Playing educational games with kids is one of the best ways to improve their learning disabilities. That's why I am a great believer in getting kids to learn through play. When they are playing educational games, they improve core skills, like fine motor skills or gross motor skills.

I have listed lots of educational games below, to help kids with disabilities, like dyslexia, dysgraphia, dyspraxia, dyscalculia etc., to improve these skills, which are essential for all-round balance and stability.
Educational games are the best way to learn!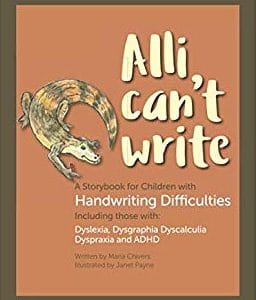 Alli Can't Write
A Storybook for Children with Handwriting Difficulties – including those with: Dyslexia, Dysgraphia, Dyscalculia, Dyspraxia & ADHD.
Find out more