Dyscalculia is a Specific Learning Difficulty (SpLD), appearing as severe problems with mathematical skills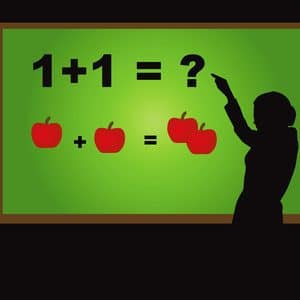 Dyscalculia (Math) is a learning difficulty that can cause severe problems with arithmetic, such as addition, subtraction, multiplication and perform other basic math calculations.
There is also information on What is Dyscalculia?, What Causes Dyscalculia?, Definition of Dyscalculia, Dyscalculia Tests and Indicators of Dyscalculia (Checklist).
What is Dyscalculia (Math Problems)?

Dyscalculia (pronounced: Dis-cal-qu-lee-ah), affects approximately 3 – 6% of the population. It is a specific learning difficulty in mathematics. Like dyslexia, dyscalculia can be caused by a visual perceptual deficit. Dyscalculia refers specifically to the inability to perform operations in mathematics or arithmetic. It is often described as an extreme difficulty with numbers.

Definition of Dyscalculia

Dyscalculia or mathematical disability is a specific learning disability or difficulty involving innate difficulty in learning or comprehending mathematics. It is akin to dyslexia and can include confusion about math symbols.

(From Wikipedia,
the free Encyclopedia)

It is imperative to recognise dysgraphia as soon as possible before it impacts on a child's self-esteem. There is no single set of signs that characterise all people with dysgraphia.

What Causes Dyscalculia (Math Problems)?

We still do not know very much about this condition. However, it is estimated *3 – 6 % of the population may have it. Around 60% of dyslexics have difficulties with dyscalculia. A lot of research is now taking place, and it is hoped that over the next few years we will begin to understand this a little more.

These factors are often exacerbated by weak processing, sequencing skills and poor-short-term memory problems. They are usually good at answering verbally but cannot tell you how they got the answer. Along with dyslexia and dysgraphia, the extent to which you can be affected by dyscalculia varies tremendously from person to person.

How can I help a Student with Dyscalculia?

You can help a student with dyscalculia by helping to develop his skills with sequencing, space organisation, deduction, directional awareness, timekeeping and strategy. The earlier it is started, the better.

Reference: *(Badian, 1999; Gross-Tsur et al., 1996; Lewis et al., 1994).

Tests for Dyscalculia (Math Problems)

Tests for Dyscalculia (Mathematical Difficulty)

Indicators of Dyscalculia (Math Problems)

Indicators of Dyscalculia in Children
* Age Range approximately from age 7 to 11 years

If a child has several of these indicators, further investigations should be made. Likewise, if these issues continue beyond the time that the average child has grown out of them, they may indicate dyscalculia and advice should be sought.

For ease of reading, he should be transposed for s/he when appropriate.

Dyscalculia Indicators

Do you/your child frequently:

Confuse numbers i.e., 51 for 15?
Transpose and reverse numbers, when reading or writing?
Confuse: Minus, Subtract, Take away, Less?
Confuse: Add, Plus, Add on, More?
Confuse: Times, Multiply?

Do you/your child have problems:

Learning the multiplication (times) tables?
 Working out simple money and change?
 Estimating numbers:
Working out percentages?
Working out averages?
Understanding fractions?
Has difficulty understanding concepts of;

place value,
carrying and
borrowing?

With understanding 2 + 5 = 7 (but not understand 5 + 2 = 7)?
Difficulties reading music, because of the mathematics around notes?
Working out the speed miles per hour?
Telling the time and concepts related to time such as;

days,
weeks,
quarters etc.?

Learning the date?
Can he answer a question correctly but cannot tell you how he got the answer?
Limited strategic planning, (cannot play games like chess)?

Early Diagnosis is the key to success!

The earlier dyscalculia is diagnosed, the easier it is to ensure the child receives the correct support at home and school. Although there is no cure for dyscalculia, research has shown the problems can be alleviated with the proper tuition.

Please bear in mind that children vary tremendously at this age. An Educational Psychologist and some other specialists can diagnose someone with Dyscalculia.

This is a guide only and does not constitute medical or psychological advice.

If you are concerned about your child, you should seek professional advice as early as possible.

Maria Chivers 2018
Alli Can't Write
A Storybook for Children with Handwriting Difficulties – including those with: Dyslexia, Dysgraphia, Dyscalculia, Dyspraxia & ADHD.
Find out more