NASA – Children dumbing down – Genius creativity of 5 year-old's reduced from 98% to 12%
20th February 2023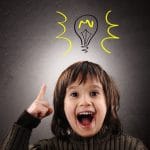 What is the quickest way to take the genius creativity level of five-year-old children from 98% to 12% by age 15? According to NASA, putting them in the school system is the answer!
NASA scientists say we are born creative geniuses, and the education system "dumbs us down". NASA used a highly specialized test that would give them the means to effectively measure the creative potential of NASA's rocket scientists and engineers. This test examined the ability to develop new, innovative ideas for problems. What percentage of those children do you think fell in the genius category of imagination? A full 98 per cent! Yes, 98 per cent! But this is not the real story.
The scientists were so astonished that they decided to make it a longitudinal study and tested the children again five years later when they were ten. The result? Only 30 per cent of the children now fall into the genius category of imagination. When the kids were tested at 15 years, the figure had dropped to 12 per cent! What about us adults? Sadly, that drops to a meagre 2 per cent.
https://ideapod.com/born-creative-geniuses-education-system-dumbs-us-according-nasa-scientists/