Speech Recognition Software (SRS) & Dyslexia
Home
»
Speech Recognition Software (SRS) & Dyslexia
Speech Recognition Software (SRS) 
On this part of the site, you will find information on Speech Recognition Software (SRS) sometimes called Voice Recognition Software (VRS).
Speech Recognition Software has come a very long way in the last decade. For instance, 'Dragon Naturally Preferred' is rated independently to be 99% accurate and is so easy to use, you'll wish you changed years ago.
This software works by you 'talking' to your computer. As you talk, the words are written on the computer screen – and they are spelt correctly. This type of software also helps to improve spelling because the student always sees the correctly spelt words. The computer types up exactly what you say.
(The golden rule is to speak slowly when recording your voice, stressing 'a', 'an', 'and', etc., but please do not speak like a robot, because when you start doing your essay's etc., the machine will not recognise your voice.)
You will find several SRS packages available, many of these are incorporated into other programmes, such as Office XP.  However, in my opinion, if a student has dyslexia or dysgraphia, they would find it easier to use a separate speech recognition software (SRS), such as the ones below (or similar).
---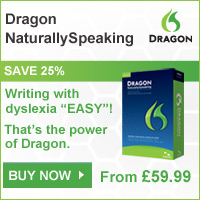 Dragon Naturally Speaking 15 (Home Edition)
(I have to say this is my favourite because it is so easy to use.)
This programme allows you to create, edit and revise documents without using a keyboard. This software is one of my favourites and in my opinion, is one of the best on the market for dyslexic students. Price approximately £140.
Dragon NaturallySpeaking products have won more than 175 awards worldwide for accuracy and ease of use.
---
Another programme is: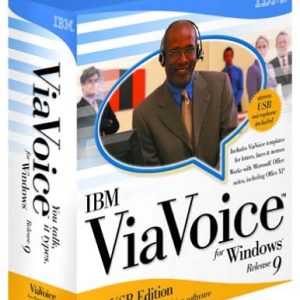 Via Voice Pro (7 – Adult)
 – enables the user to create, edit and revise documents, integrated with Microsoft Word – all without using a keyboard and it's easy to use.
Further information from Amazon.
---
Microsoft Office XP
Since 2020, Microsoft Office users have been able to use the speech recognition software built-in.
Microsoft Office XP
Touch Typing Programmes

Should Children learn to Touch-Type?

There are a lot of 'Touch Typing' packages available. However, I think for people with dyslexia, dysgraphia, dyspraxia or other learning difficulties (SpLD's), it is advisable to use programmes that were specially designed with 'dyslexic' type problems in mind. The programmes listed below, have been tested and used for years. They are excellent.

---

KAZ – Typing
Children love this because it has a big yellow bird that helps to teach them to type. Designed for children 6+ years (This company now has a Dyslexia Edition which has been developed by the 'Dyslexia Research Trust'.)
KAZ

---

Nessy Fingers Touch Typing
'Nessy Fingers Touch Typing', helps children improve spelling and keyboard skills. Designed for children between 8-12 years.
Nessy

---

Touch-type Read and Spell (TTRS)
Children who learn to touch type via a multisensory course like Touch-type Read and Spell also have their phonics skills reinforced.
TTRS

---

Type to Learn 3
Students embark on time-travel missions to learn keyboarding skills.
Smart Kids

---

Typing Club
Excellent touch typing programme and you can see how you are performing at any time.  Gives you WPM and accuracy using data on a graph. There is also a schools edition of this programme.
Typing Club

---

Keyboarding Without Tears:  Learn to Type for Kids
Students learn to type while having fun.  This programme is graded and teaches general computer readiness.

This programme is part of the Handwriting Without Tears programme, which has been hugely successful.
Keyboarding Without Tears

---

Typing Quest
Keyboarding can be an adventure!  The versatile keyboarding courses of Typing Quest will take your students from beginner level all the way to touch typing mastery.
Typing Quest

---

Type Tastic
Discover 700+ typing activities for all grade levels – and unleash the joy of typing in your school.
Type Tastic

---

Free Typing Programmes

TIPP10
Free touch typing programme. Beginners and even children will find their way around right away so they can start practising without a hitch.

In November 2011, TIPP10 won an award at the well-respected Stiftung Warentest in Germany and had asserted itself as the only free software against nine other typing tutors.
Tipp10

---

---

Independent

Touch Typing Review
KAZ

Why not give your child an advantage over the holidays and get them to touch-type? I am sure you would not mind sitting with them (although you don't have to) for ¹15 minutes a day for five days.

This will give them an excellent start when they return to school.

KAZ is for children from six years of age, he is a 'big bird', and the kids love him.

The programme basically has five phrases, and each sentence will take about fifteen minutes to complete. ¹(Now the caveat on this is there is never any pressure on the child; it may take 15 minutes, 30 or just ten, they have to do it at their own pace.)

When they have completed the five phrases, they will have used all of their fingers and covered the entire keyboard.

After that, it is just practice to increase the speed and to get the whereabouts of the keys to 'long-term memory' (that's my expression, not theirs).

There are also sections for punctuation etc., but they are separate, and you can choose to complete them or not.

My husband and one of our sons can type at 40wpm, using two fingers, so, I don't necessarily believe in touch-typing per se, but I firmly believe that everyone should know their way around a keyboard well.

If they know the keyboard, when they want to write something, they can just get on and type – it definitely makes writing more accessible.

There are different programmes available; one for children with dyslexia, junior children, and even a version for children with ADHD. Furthermore, it is not just confined to children, so you may want to have a go yourself!

For further information, go to KAZ.

Congratulations to KAZ, they have just been
'voted #1 Best Typing Tutor of the Year' for 2018.

by Maria Chivers
2018

---