Touch Typing Programmes & Dyslexia
Home
»
Touch Typing Programmes & Dyslexia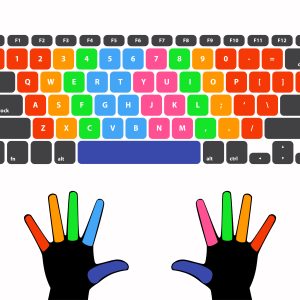 Touch Typing & Dyslexia
There are several 'Touch Typing' packages for people with dyslexia available.
It has been shown that touch typing can help with literacy and numeracy.
People with dyslexia have designed some of these touch typing programmes, and these specific programmes are very 'dyslexia friendly.
Should Children Learn to Touch-Type?
Children with dyslexia, dysgraphia, dyspraxia or other learning difficulties (SpLDs) would benefit from touch typing programmes.  Many of the programmes listed below are excellent, and you will also find a few touch typing programmes are free.
---
KAZ – Typing
Children love this touch typing programme because it has a big yellow bird that helps to teach them to type.  Designed for children 6+ years (This company now has a Dyslexia Edition developed by the 'Dyslexia Research Trust'.)
KAZ
---
Nessy Fingers Touch Typing
'Nessy Fingers Touch Typing' helps children improve spelling and keyboard skills and is excellent for anyone with dyslexia.  They are designed for children between 8-12 years.
Nessy
---
Touch-type Read and Spell (TTRS)
Children who learn to touch type via a multisensory course like Touch-type Read and Spell also have their phonics skills reinforced.  People with dyslexia benefit from multisensory learning.
TTRS
---
Type to Learn 3
Students embark on time-travel missions to learn keyboarding skills.
Smart Kids
---
Typing Club
Excellent touch typing programme; you can see your performance at any time.  It gives you WPM and accuracy using data on a graph.  There is also a school edition of this programme.
Typing Club
---
Keyboarding Without Tears:  Learn to Type for Kids
Students learn to type while having fun.  This programme is graded and teaches general computer readiness.
This programme is part of the Handwriting Without Tears programme, which has been hugely successful.
Keyboarding Without Tears
---
Typing Quest
Keyboarding can be an adventure!  The versatile keyboarding courses of Typing Quest will take your students from beginner level to touch typing mastery.
Typing Quest
---
Qwerty Kids
Run by Qualified Teachers experienced in teaching children with Dyslexia, Dyspraxia & ADHD.
quertykids.org
Touch-type It
Discover 700+ typing activities for all grade levels – and unleash the joy of typing in your school.
touchtypeit
---
Type Tastic
Discover 700+ typing activities for all grade levels – and unleash the joy of typing in your school.
Type Tastic
---
Free Typing Programmes

TIPP10
Free touch typing programme.  Beginners and children will find their way around to start practising without a hitch.
In November 2011, TIPP10 won an award at the well-respected Stiftung Warentest in Germany and asserted itself as the only free software against nine other typing tutors.
Tipp10
TypeRacer
A free game that children find great to use.  They can play tournaments against others, and it saves their scores.  I think this is excellent, and it is free.
TypeRacer
Nitro Type
Improve your typing skills while competing in fast-paced races with up to 5 players from around the world.  Compete against your friends, earn new cars, track your scores, and more… all for free!
NitroType
Type Racer
TypeRacer is an excellent free online competitive typing game. Race against live opponents while learning to increase your typing speed and having fun! Type quotes from popular music, songs, anime, comic books and more.!
TypeRacer
---
Independent Touch Typing Review
KAZ
Why not give your child an advantage over the holidays and get them to touch type?  I am sure you would not mind sitting with them (although you don't have to) for ¹15 minutes daily for five days.
This will give them an excellent start when they return to school.
KAZ is for children from six years of age; he is a 'big bird', and the kids love him.
The programme has five phrases, and each sentence will take about fifteen minutes to complete. ¹(Now the caveat is that there is never any pressure on the child; it may take 15 minutes, 30 or just ten, they have to do it at their own pace.)
When completing the five phrases, they will have used all their fingers and covered the entire keyboard.
After that, it will just be practice to increase the speed and get the keys' whereabouts to 'long-term memory' (that's my expression, not theirs).
There are sections for punctuation, etc., but they are separate, and you can choose to complete them.
My husband and one of our sons can type at 40wpm, using two fingers, so I don't necessarily believe in touch-typing per se, but I firmly believe that everyone should know their way around a keyboard well.
If they know the keyboard, they can get on and type when they want to write something–it makes writing more accessible.
There are different programmes available; one for children with dyslexia, one for junior children, and even a version for children with ADHD.  Furthermore, it is not confined to children, so you may want to have a go yourself!
For further information, go to KAZ.
Congratulations to KAZ.  They have just been
'voted #1 Best Typing Tutor of the Year for 2018.
by Maria Chivers
2018
---
Independent Touch Typing Programme Reviews

KAZ

Why not give your child an advantage over the holidays and get them to touch type? I am sure you would not mind sitting with them (although you don't have to) for ¹15 minutes a day for five days.

This will give them an excellent start when they return to school.

KAZ is for children from six years of age. He is a 'big bird', and the kids love him.

The programme basically has five phrases, and each sentence will take about fifteen minutes to complete. ¹(Now, the caveat is that there is never any pressure on the child; it may take 15 minutes, 30 or just ten, they have to do it at their own pace.)

When they have completed the five phrases, they will have used all of their fingers and covered the entire keyboard.

After that, it takes one session a day to practice to increase the speed and to get the whereabouts of the keys to 'long-term memory' (that's my expression, not theirs).

There are also sections for punctuation, but they are separate, and you can choose to complete them.

My husband and one of our sons can type at 40wpm, using two fingers, so I don't necessarily believe in touch-typing per se, but I firmly believe that everyone should know their way around a keyboard well.

If they know the keyboard, they can get on and type when they want to write something–it makes writing more accessible.

Different programmes are available; one for children with dyslexia, one for junior children, and even a version for children with ADHD. Furthermore, it is not just confined to children, so you may want to have a go yourself!

For further information, go to KAZ.

Congratulations to KAZ; they have just been
'voted #1 Best Typing Tutor of the Year' for 2018.

by Maria Chivers
2018

---